28 October, 2017
Halloween is approaching and the lovers of little bit horror and mystery are getting ready to put on strange costumes and have fun. Nowadays, Halloween is quite popular celebration in Georgia and therefore, many entertaining events are scheduled for this "creepy" day in Tbilisi. Since this year this spirit-filled night falls on a Tuesday, many cafes and bars start celebrating the All Hallows Eve on weekend.
If you are still uncertain about where to party on this day, here we
Art-Cafe HOME: Halloween Nights
Popular pre-club
Art-Cafe HOME
, located in Old Tbilisi, Betlemi Street #13, celebrates Halloween on October 31.
The guests' clothing will be strictly controlled.
Entrance fee (from 00:00) is 5 GEL.
23:00 - 03:00 | II floor / fireplace Room - HOME playlist.
The door opens at 20:00. Face/Age control.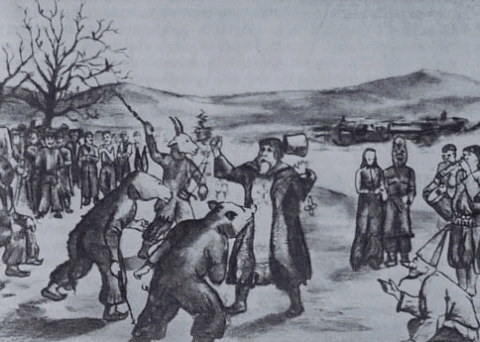 Berikaoba - Georgian festival similar to Halloween



La Boheme Halloween Party


La Boheme
, newly-opened Mediterranean restaurant located in Vake, 34-36 Irakli Abashidze Street, will be hosting its very first Halloween party on Tuesday 31st October.
Guests should expect the unexpected and be ready to go late into the night with renowned artists DJ
Lasha Babuadze
and SvanSikh, who will be gracing the decks with their bone chilling beats.
Halloween at Fabrika


Fabrika
,a multicultural space and a modern multifunctional hostel decorated with incredible murals by Georgian artists has a lot of fun events planned for October 31.
The hostel is located at #8 Egnate Ninoshvili Street.
The lobby of the hotel will be open for the guests whole day. Specialty cocktails, mulled wine and Halloween food menu will pleasantly surprise you.
From 19:00 the restaurant of the hotel will receive the guests. You can cozy up in the dining area to watch Tim Burton's spooky and beloved movie "Edward Scissorhands", which is perfect for Halloween.
Once you've bonded with fellow guests, you can continue the good times out on the town.
For the ones not giving up on cozy vibes, -20% vouchers for the Fabrika dormitories will be given out.
It'll be more fun if you come dressed up in eccentric costumes. Suitable atmosphere is waiting for you at Fabrika.
Dive Bar Halloween Party


Dive
is an American bar in the center of Tbilisi for all nationalities, with friendly atmosphere, good people, great drinks, and memorable times. Located at #12 Revaz Laghidze street, Dive Bar promises you an unforgettable Halloween party.
"We are inviting all of you to join us Tuesday October 31st. Say trick or treat and you might find yourself holding that oh-so delicious vodka juice. Or making new best friends. For one night not just all humans but everyone is welcome!" – The invitation at the event sounds really good, so put on your best costume and makeup and join funny Halloween at Dive Bar.
The event starts from 8PM.
KHIDI 中 G2: HALLOWEEN FOR TESLEIDON


Khidi
, popular underground nightclub located at Vakhushti Bagrationi Bridge, Right Embankment, is waiting the guests for musical Halloween night.
Line up:
22:00 - 23:00 // Hierophant
23:00 - 00:00 // Frequency Shifter
00:00 - 01:30 // A. Tabukashvili
01:30 - 03:00 // Boyd Schidt
03:00 - END // RÓMAN B2B OTHR
Ticket price is 15 GEL.
Halloween NIGHT PARTY at Otium


Located in the Turtle lake valley restaurant "
OTIUM
" is the place where you can spend really spooky and memorable Halloween night. If you are not afraid of monsters, vampires and other scary creatures, who come out of hiding once a year, than Otium is the right place for you.
Renowned and one of the most beloved Georgian djs Machaidze and Kordz will perform for the guests today.
The tickets will be sold with the following allocation:
I Bucket: 20 Gel
II Bucket: 25 Gel
Door: 30 Gel
As the restaurant promises, the creepiest night in Tbilisi will take place near the Turtle Lake side road at Otium's territory", so choose the suitable costume and enjoy the party.
Pumpkin Party at Punctum 2


Punctum 2
, the cozy bar located at Griboedovi street 21, offers you atmosphere pleasant atmosphere and a lot of pumpkin instead of scary Halloween. The lovers of pumpkin soup and funny games can attend the event and spend good time without seeing scary creatures and ghosts.
Punctum 2 will serve you with delicious pumpkin soup.
Halloween NIGHT PARTY at Respublika Grill Bar


Respublika Grill Bar
, cozy little restaurant in the center of Old Tbilisi, #19 Pavle Ingorokva street, promises its guests an unforgettable evening for Halloween party.
Special hosts of the event are Count Dracula and the Black Bride.
The program includes: performance with costumes, energetic music, various funny competitions with prizes, bar with various cocktails and awards for the most original costumes.
According to the Respublika Grill Bar, the party will be TERRIBLY fun and AWESOMELY beautiful.
Entry: 20 GEL
Dress Code: Halloween Style
Halloween, also known as All Hallows' Eve, or All Saints' Eve, begins the three-day observance of Allhallowtide, the time in the liturgical year dedicated to remembering the dead, including saints (hallows), martyrs, and all the faithful departed.
Halloween, having entered Georgia just a few years ago, was met with controversy and a mixed response from society. Some people still abstain from it and oppose it, while others embraced this custom and have started to celebrate it annually.
Related stories:

The other side of Tbilisi on All Hallows' Eve - How do Georgians Trick-or-Treat?
HALLOWEEN in Tbilisi!
Halloween Fails That Are Terrifying in All the Wrong Ways